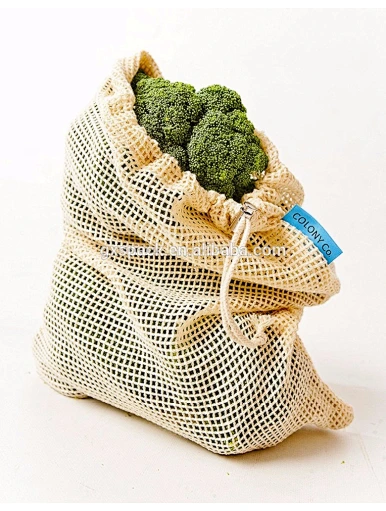 Reusable Mesh Produce Bag Organic Cotton Washable with Drawstring
price
USD0.60 - USD0.90 / pieces
Reusable Mesh Produce Bag Organic Cotton Washable with Drawstring fruit mesh bag fruit mesh bag fruit mesh bag fruit mesh bag fruit mesh bag fruit mesh bag fruit mesh bag fruit mesh bag
1. Exquisite design with good quality.
2. Advanced machine, use Japan machine, meticulous sewing.
3. Cheaper delivery fee, we cooperate with some competitive shipping company to save our customer's delivery charge.
Large Size - Produce Bags
The Large sized Reusable Produce Bags (17x11 inches) are great for veggies like broccoli (3 to 4 large heads with stalks), or if you want to load up on sweet potatoes (5 to 6 large potatoes) or apples (as many as 20!). These bags are stong and durable and can handle a heavy load.
Medium Size - Produce Bags
The Medium sized Reusable Produce Bags (13x11 inches) are perfect for the every day produce shopping. Use them for a couple heads of broccoli or cauliflower. Or a dozen oranges or apples. Is zucchini in season? This size will usually fit what you need.
Small Size - Produce Bags
The Small sized Reusable Produce Bags (8x11 inches) work well for smaller items like mushrooms or brussells sprouts. They're also great for 8 or 9 lemons or limes. Ginger or turmeric root? Sure, why not.
Q:Are you a manufacturer?
A: Yes, we have been in providing professional solutions in gifts packing industry since 2010.
Q:How long is your delivery time?
A:
Generally it takes 3-5 days for sample without logo,if customized your own logo, it will be 7 days.
Q: Do you have stock products to sell?
A: No, we are working on OEM orders. Thats means size, material, quantity, design, etc will depend on your requests. Obtiously, your logo can be printed on the products.
Q: What's your product range?
A: 1. organza bag, satin bag, velvet bag, cotton bag, jute bag, mesh bag, non-woven bag, etc.
2. Ring box, Jewelry box, gift box and so on.